Ferrets come with two color variants, grey and white. Once tamed, hearts occasionally float above their head. 
They can be found in Savanna biomes.
Behavior
Edit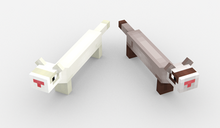 Tamed by feeding one of their favorite foods.
Can 'sit' and stay by right-clicking them. Click again to let them stand.
Ride on your shoulder by sneak right-clicking them. Repeat to put them down.
Breeding is not currently implemented.
Ferrets enjoy eggs immensely, and will get themselves into trouble trying to obtain them.
Eat wild frogs and toads.
Steal eggs from chicken nests.
Favorite Foods: Eggs, Mutton
Hydration
Edit
Ferrets will drink from water sources.
Community content is available under
CC-BY-SA
unless otherwise noted.